Our expertise – for our customers
Before the potatoes are launched in the market, we have tested their characteristics for several years and at various locations, both inside and ouside Germany. The findings provide the basis for our advice to farmers, seed growers or customers from the food industry.
From planting to harvesting: advice on growing
From the choice of variety to the characteristics of the plants and tubers, and from the cultivation of seed potatoes to harvesting, storage and marketing – our staff in the growing advice and sales departments are ready to pass on their knowledge to our customers. Furthermore, in many regions Solana runs trial fields where it grows and tests different varieties.
The direct exchange of information between breeding/research, product management and growing advice is beneficial for us but equally so for our customers and seed growers.
Great cooperation with seed growers
Excellent cooperation with our seed growers over many years is a key factor in the high quality of our seed stock. We see ourselves as partners collaborating with our seed growers: our experts are there to help them with professional advice and support to ensure successful production and marketing of our potatoes. As we produce pre-basic seed potatoes on our own farms, we know from our own experience what demands the seed growers and farmers face.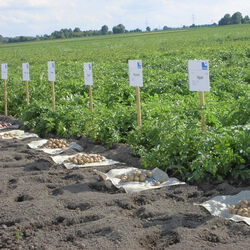 International advisory services
We have subsidiary companies and sales representatives in 23 countries, so we have structures in place that secure lasting partner­ships with our customers and business partners and enable us to offer our sales and advisory services at regional level.
Come and meet us!
We organise field days in different countries and attend other field days and trade fairs. We also run workshops on individual potato varieties.
For information on field days and other events, check the "Events" section on the website.