10 years young but still new
It takes about ten years before a new potato variety is ready for market. So our breeders and researchers are always one step ahead of time.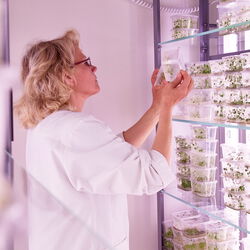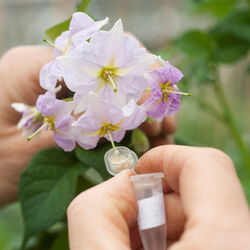 It is clear, then, that a great deal of ability and foresight is needed to define the objectives of a new breeding programme in advance. To keep pace with constant changes, finely honed skill in breeding is as essential as scientifically sound work in the laboratory.
Together, we have set ourselves the goal of supplying future-proof, high-yielding potato varieties that taste good, are resistant to pests and diseases and are ideally matched to the regions where they are grown.
Thanks to the use of modern varieties, farmers are able to achieve more stable yields and reduce their application of plant protection products.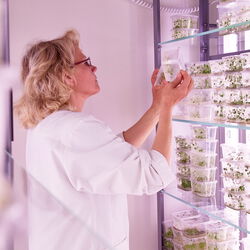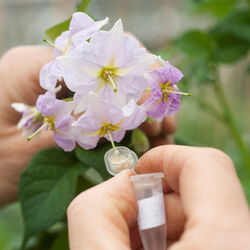 Our objectives:
The following objectives are important to us in our work:
Marketable yield
Resistance: potato varieties that are resistant or immune to pests or potato disease such as nematodes (roundworms) or potato wart disease
External features: e.g. ease of grading, insensitivity to damage, tuber shape
Good processing properties: ideal suitability for frying to make chips or excellent baking characteristics to make crisps
Cooking qualities: floury, all-purpose (primarily waxy) or waxy tubers
Skin/flesh colour
Our experienced team of breeders and researchers is committed to these goals.
Breeding – how a new variety is produced
It takes ten years before a potato variety can be brought to market. Our breeders and researchers are therefore always one step ahead of time.
Making a selection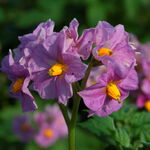 The first task is to select suitable parent plants that have the desired positive properties — such as good tolerance of heat, good storage stability or resistance to certain pests or diseases.
Creating variations: crossing plants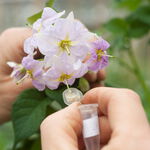 The parent plants are crossed with each other. Incidentally, this cross-breeding – in other words the pollination of the potato flower – is carried out by hand in the crossing garden at our breeding station.
Every year we cross about 150 different potato genotypes with each other in around 450 crossing combinations, under strictly controlled conditions.
Choosing the best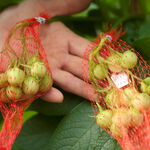 The outcome is crossed fruits. These contain the seeds, which are all genetically different – like siblings are. They are all potential candidates for a variety.
Every year we use these seeds to raise 200,000 plants, on which small tubers grow.
The best are then selected in the course of several years of tests and trials at various locations and in various regions. Tests are also conducted in the laboratory and the kitchen, for example to investigate the variety's suitability for the table.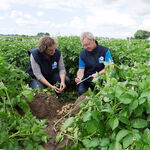 Only the best and most resistant candidates are retained in order to be registered as a variety with the EU's Community Plant Variety Office. Tests are carried out there once again before a variety is officially approved.
In Germany, by the way, varieties are only accepted by the Bundessortenamt, Germany's national plant variety office, if their properties are an improvement over all previous varieties.
Looking to the future – with research and development
Our research and development is geared to forward-looking planning of the breeding targets of the future. To do justice to the constantly changing nature of these targets, it is essential to work on a sound scientific basis.
Our scientific staff therefore engage in numerous research and development projects in association with other companies and in national and international networks of leading scientific institutes. This work is aimed at achieving constant genetic improvement of our breeding material, the development of innovative methods of breeding plant varieties and safeguarding the quality of our seed potatoes.
The focal areas of our research and development work are:
Quantitative genetics and mathematical models to optimise the breeding process
Development of practical test systems to review breeding targets in the breeding process
Chemical analysis of substances contained in potatoes
Cell and tissue culture
Marker-assisted selection – DNA diagnostics for the efficient selection of breeding material
Genomics, identification of genes determining complex and quantitative plant traits