Top-quality seed potatoes — made by Solana
We aim to maintain a continuous supply of high-quality seed potatoes and guarantee high production volumes with a high level of safety. This is why we produce our seed potatoes at selected locations and impose safety standards that go beyond statutory requirements.
Modern varietal maintenance
The source material for growing the seed of our varieties in Germany is produced by what is known as varietal mainte­nance at our breeding stations in Schleswig-Holstein and Mecklenburg-West Pomerania, in northern Germany.
With our system of varietal mainte­nance under strictly controlled conditions we ensure that we supply healthy, pure source material for multi­plication. To carry out varietal mainte­nance we use the proven method of clonal mainte­nance and the modern technique of meristem culture: this procedure involves growing plants in vitro in the laboratory from tubers from the field. Segments of stems from these plants can then be propagated in the labora­tory within a short space of time, growing to form new plants. This is the method referred to as meristem culture. All of this takes place under completely sterile conditions and with constant phyto­sanitary control.
Constant selection and checking of the elite plants ensures conti­nuous supply to our seed-growing areas.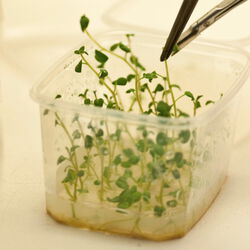 Seed propagation
Propagation of the high-quality material from varietal maintenance takes place exclusively in the coastal regions of Germany, which are among the most healthy growing regions in Europe. Experienced and reliable farmers on selected farms guarantee the best possible production conditions. Thanks to the use of advanced technology, the seed stock can be produced carefully and in large quantities. Staff from our local offices are on hand to ensure everything is smoothly coordinated and to provide advice on cultivation.
Quality assurance
We perform our own checks in the course of breeding, during production and along our distribution channels — checks that go beyond those required by the strict quality legislation applying to seed stock in Germany.
At our breeding stations and on our seed-growing farms we guarantee high standards of quality and safety by taking a whole range of measures, including:
Hygiene management
Risk analyses
Residue tests
End-to-end documentation of the production process
In-house checks by our farm managers and quality assurance officers
Additional tests for pathogens
Additional ELISA tests (to test for potato viruses)
Intensive selection of seed crops
Trained personnel
Our breeding stations and our own farms in Germany are certified and comply with the quality assurance requirements and standards laid down by GlobalG.A.P. — the German and international quality assurance system for foodstuffs.