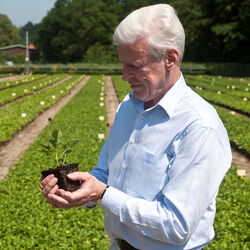 Challenge potato breeding
Breeding potatoes is a constant challenge. A challenge my grandfather and my father were already aware of. Their dedicated breeding work and their business acumen are the foundation of the progress made by Solana group to become an enterprise that is still successful today. We put a lot of our lifeblood into doing the utmost to develop high-quality, marketable varieties and to generate seeds of an excellent quality. Our team of skilled specialists has dedicated itself to these aims and we set ourselves the primary task of securing the success and the economic viability of our customers' operations with our varieties and our consulting services every day.
Our aim: modern varieties
We aim at modern, economically attractive varieties, which require less pesticides and fertilizers thus enabling a sustainable protection of the environment. This applies for Germany and locations all over the world. As an international corporate group with a strong focus on the market, we are always developing new varieties to fulfil the wishes of our customers from the areas of farming, industry and commerce and to meet the requirements of consumers. This is how we secure ongoing dynamic growth, while our thinking and acting remain rooted here in Germany.
Tradition & Future
Tradition and future constitute a single unit in potato breeding. At Solana group, striving for success, for quality and for performance has a tradition going back more than 100 years. This is our strong motivation for the future.
We will be a reliable partner for you!
Sincerely
Dr. Kartz von Kameke